Mole Check In London With Dermatologist
Moles can change the appearance or appear as something new. If you have noticed any change that concerns you or if you wish to know more about any particular mole then see a mole specialist at London Dermatology Clinic. To find out more have your mole check in London completed today with a Dermatologist for only £195.
LDC has restored my skin back to the way I like it, thanks to the wonderful team." - M.M Maidstone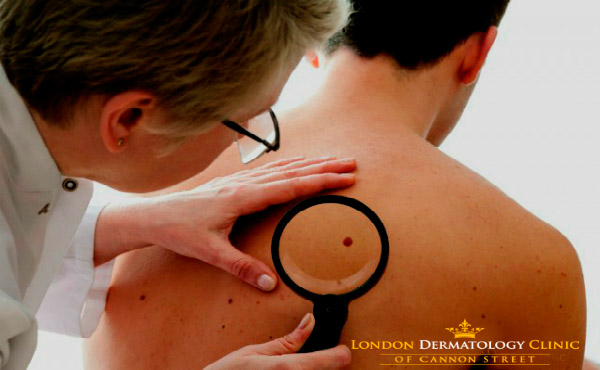 The London Dermatology Clinic recommends that anyone with a mole that has undergone a change in appearance should come in to the skin clinic for mole analysis. These types of mole checks allow the dermatologist to determine whether or not these changes in size, colour or shape indicate that skin cancer is present.
---
"It was reassuring to see a specialist to check out a mole that has been troubling me after years of sun beds". J.S Romford
---
Prevalence and Risk Factors
The vast majority of people have 10-40 moles on their body with up to 10% of these people having at least one mole with an atypical or unusual appearance. Moles that are changing in appearance may be becoming atypical moles which have a higher risk of becoming melanoma. Risk factors for atypical moles and melanoma include having fair skin, a history of sunburns, excessive sun exposure, radiation exposure and a family history. During mole analysis, the London Dermatology Clinic will discuss risk factors with patients having their moles examined.
Mole Check Online Consultation
How To Find London Dermatology Clinic

Our clinic is conveniently located in Central London with easy commuter access. If you are looking for mole check in London, you can find us from the nearest stations below.
Nearest Stations (Walking Distance)
Monument/Bank (3 mins) | Cannon St (7 mins) | London Fenchurch St (7 mins) | Tower Hill (10 mins) | Aldgate Station (12 mins)
Mansion House (12 mins) | London Bridge (12 mins) | Liverpool St (18 mins) | Moorgate (18 mins)