Vitiligo Treatment In London With Dermatologist
Our skin specialist dermatologists diagnose Vitiligo and provide management advice to patients. Start your Vitiligo in London treatment today with a Dermatology Consultation for only £195.
"All the other doctors thought it was eczema and were giving me the wrong treatment. LDC correctly diagnosed me and gave me a treatment plan that works." - H.R. Kilburn.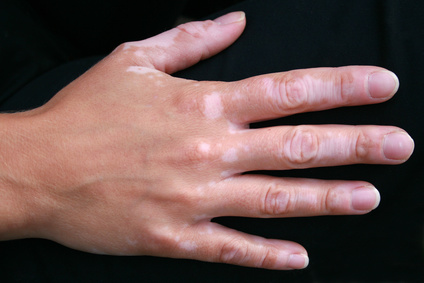 Vitiligo is a skin condition in which areas of the skin become white because of the loss of normal pigmentation. The skin itself does not become itchy or sore in any way. Rather, it feels completely normal. Common areas for vitiligo to appear include around body openings such as the eyes and nose, within body folds such as under the arms and in the groin as well as the hands and face. Even hair can be affected by vitiligo and completely lose its colour.
Prevalence And Risk Factors
Vitiligo occurs in approximately 1% of the population and is not uncommonly seen at the London Dermatology Clinic. While it can start at nearly any age at all, about half of the cases begin before the patient is 20 years of age. It is not contagious and there is no medical evidence of a link with a patient's diet. It affects men and women of every race equally although its appearance is more noticeable in people with darker complexions or tanned skin. This skin condition does have a hereditary link although only 20% of cases have a family history. Those who have thyroid disease and other autoimmune conditions may be at an increased risk of developing vitiligo.
Vitiligo Online Consultation